WHY ITIWIT WENT INFLATABLE
WHY ITIWIT WENT INFLATABLE
It has been 3 years since Itiwit, Decathlon's paddle sports brand decided to channel all of its energy into the design and development of inflatable stand-up paddle boards and kayaks and to do nothing but that. Read on to discover all the reasons that led us to make this move, with the goal of making paddle sports accessible to as many people as possible.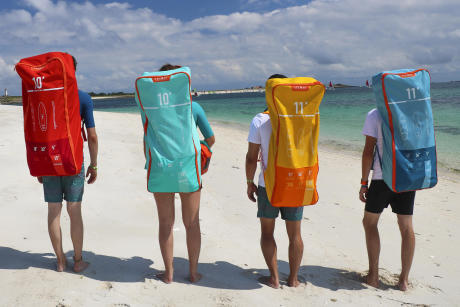 An inflatable SUP or kayak fits inside a backpack. This makes it much easier to get to the water, even more so if it is in a hard-to-reach location (mountain lake, steep path down to the beach, etc.).
The (split) paddle and the pump fit inside the bag or can be attached to the outside of it using the straps provided for this purpose, leaving your hands free to carry the rest of your stuff.
Inflatable/rigid comparison:
- Itiwit x500 dropstitch inflatable kayak: 94 cm x 50 x 27 cm, weight 18 kg (in its backpack)
- Rotomod Mezzo polyethylene rigid kayak: 3.60 m x 67 x 34 cm, weight 23 kg
A SUP or kayak can be up to 3 to 4 metres long. Making it difficult to store at home without a garage or garden.
You don't get that problem with an inflatable. All you need is a cupboard at home and you can even fit several in the boot of your car.
Inflatable/rigid comparison:
- Itiwit x100 11' dropstitch inflatable SUP: 97 cm x 40 x 20 cm, weight 10 kg (in its backpack)
- Bic Cross 11' polyethylene rigid SUP: 3.35 m x 86 x 14 cm, weight 17 kg
The revolution with an inflatable SUP or kayak is that you can take public transport to get to the water. You can get around easily by train, bus or underground. Plane travel is a breeze (no excess baggage charge), meaning you can paddle using your own kit on the other side of the world. You can even combine 2 sports into a single trip: cycling and paddle sports!  
The material used to manufacture Itiwit inflatable stand-up paddle boards and kayaks (x100+ & x500) is called Dropstitch. It is made from several layers of PVC connected by thousands of polyester threads. Once the craft is inflated to high pressure (15 psi or 1.2 bar), the threads are pulled taught and it becomes very stiff. The addition of reinforced strips down the sides increases the stiffness even more by preventing the Dropstitch from deforming.
This has made it possible to develop efficient race, touring and surf SUPs and "rigid" touring kayaks that fit inside a backpack with an identical glide performance to a rigid SUP or kayak.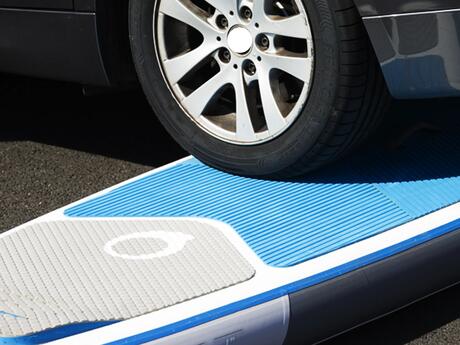 Thanks to the high-pressure inflation and reinforced sides of the SUP or kayak, inflatable craft are also very durable and impact resistant.
They can resist being paddled hard into a jetty or impacts with rocks.
The thickness of the PVC skin makes them very difficult to puncture, and they are easy to repair with a patch and PVC glue. This means you don't have to worry about letting the whole family use it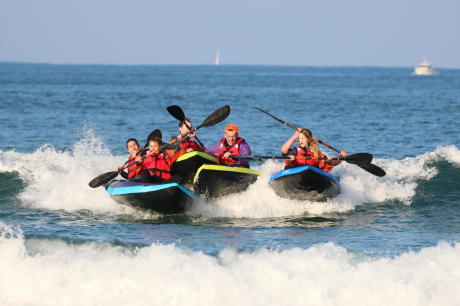 You're not going to hurt yourself if you collide with an inflatable SUP or kayak. So you can let your kids play, dive and jump from your SUP at the water's edge.
For SUP surfing, it's even better. You can learn with peace of mind without having to worry about colliding with your board or even sharing a wave with another inflatable SUP or kayak. Crashing into another board is not an issue either (provided that it is also inflatable).
Another key benefit: inflatable SUPs and kayaks are lighter than their rigid counterparts. A rigid touring paddle board such as the Bic Cross Tough 10' weighs 14 kg (with a volume of 195 litres) as opposed to the inflatable Itiwit x100 10' at only 9 kg for a volume of 244 litres. This means that even once they are inflated they are still easier to carry to the water's edge. Being so lightweight presents another advantage on the water because it lets you pick up more speed with a weight-to-volume ratio that is very much in your favour. The Strenfit x500 inflatable kayak weighs 18 kg, versus 26 kg for the rk500-1 rigid model made from polyethylene.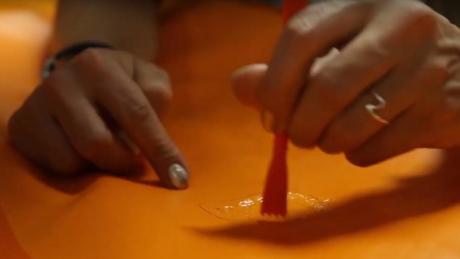 Contrary to popular belief, an inflatable SUP or kayak is easier to repair than a rigid one. All you need is a repair kit to suit the material (PVC), then simply deflate it, degrease it, clean it, stick on a patch and then put a weight on it to let it dry for 12 hours and that's it. If a repair is possible on a rigid kayak or stand-up paddle board, it usually requires the help of a specialist (local shaper).
ITIWIT PRODUCTS ARE DESIGNED AT THE DECATHLON WATERSPORTS CENTRE
For 100% control over the design chain, from the first draft to the final prototype, Itiwit's offices are located in Decathlon's watersports Research & Development centre. The Decathlon Watersports Centre, located "at the water's edge" in the port of Hendaye (Basque Country, France) is home not only to designers, engineers and product managers, but also specialists in inflatables whose know-how led to the design of the Itiwit Strenfit x500 inflatable kayak. This innovative rigid kayak that fits in a backpack is patent pending (the first 3D inflatable kayak hull) and the winner of Decathlon's annual in-house innovation contest (Innovation Decathlon Awards). Every day, Itiwit teams design and test on the water around the design centre the inflatable stand-up paddle boards and kayaks that will go on to be sold exclusively in Decathlon stores and on our website.
BY A TEAM PASSIONATE ABOUT PADDLE SPORTS
"UNITED BY THE PADDLE" Whether in a kayak, canoe, waveski, surfski, pirogue, or on a race, touring or surf stand-up paddle board, it is above all a story of passionate paddlers who are lucky enough to work together to design inflatables, paddles, BAs and dry bags. They are designers, engineers, product managers, procurement managers, merchandisers, digital managers and community managers who spend a lot of time on the water to test and approve the prototypes that you will find in your Decathlon stores over the coming years. Their common goal is to make paddle sports accessible worldwide through compact design so that you can enjoy incredible paddling adventures, whatever your level. Because you will discover that the world is even more beautiful seen from the water...
DISCOVER OTHER USERS' ADVENTURES
* Les prix indiqués sur le site sont des prix conseillés par la centrale d'achat DECATHLON SA.